Overview
If you are looking to update your hinges on your cabinets you will first need to determine your cabinet style, followed by your door type and overlay (if applicable). Most cabinets in America fall into the face frame category with overlay doors. Our visual guide below will help you determine what you have and how to measure your overlay. It will also show you various styles of hinges with links to find them on our site if you are trying to match what you currently have.
Note: Surface and semi-concealed hinges are sold in pairs; concealed/Euro hinges are sold individually and require mounting plates (also sold individually).
Determine your cabinet type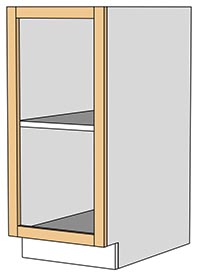 Face Frame:
The cabinet face is constructed of vertical "stiles" and horizontal "rails" that reinforce the cabinet structure and provide mounting support for doors and drawers.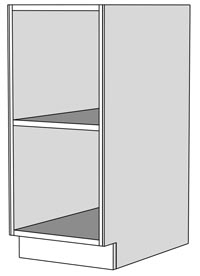 Frameless:
The cabinet is constructed without any face framing. Doors and drawers are mounted to the sides of the cabinet. Fully concealed hinges are used for the doors.
How to measure overlay
The overlay is the portion of yor door that covers your face frame on the hinged side.
With the door closed on your cabinet use a pencil or a piece of tape to mark the edge of the hinged side of the door.
Open or remove the door and measure from the inside edge of the frame to your mark.